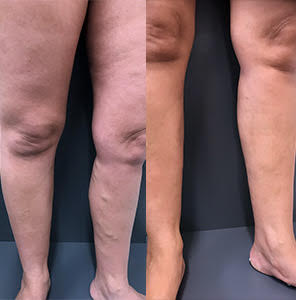 Find out about a remarkable 41-year-old woman who underwent a transforming journey at the Melbourne Varicose Vein Clinic, leaving behind the misery of protruding varicose veins that had troubled her since she was a teenager. Her experience is proof of the knowledge and commitment of our vein expert.
Our patient, a young and active individual, had long endured the presence of unsightly varicose veins along the medial aspect of her left lower leg. Over the years, these abnormal veins had progressed, casting a shadow on her quality of life. Despite having undergone stripping vein surgery five years prior, the varicose veins made an unwelcome return.
The symptoms were undeniable. She experienced swelling and heaviness in her left leg, particularly during physical activity. Long periods of standing aggravated her agony, which was relieved by relaxation, elevating her legs, and the devoted company of compression stockings—classic symptoms of varicose vein trouble. She struggled with worries about the aesthetic aspect and potential health effects of these aberrant veins in addition to the bodily manifestations. Her active way of life was also suffering.
Vein Treatment Procedure
Upon her visit to our clinic, a comprehensive examination revealed varicose veins predominantly on one side. To delve deeper and pinpoint the root cause, we conducted a Duplex Ultrasound (DU) examination. The source of her surface varices was identified as the Great Saphenous Vein (GSV), a major truncal vein.
With the diagnosis in hand, our expert team devised a tailored treatment plan aimed at tackling the source of her varicose veins. The chosen approach was Endovenous Laser Ablation (EVLA), a highly effective technique known for its success in treating significant truncal veins. Administered under local anesthesia, this outpatient procedure boasts an impressive success rate of up to 95% when performed by experienced hands. For our patient, it was a walk-in, walk-out procedure.
Following EVLA, we further enhanced her treatment with ultrasound-guided sclerotherapy (UGS), targeting both visible and non-visible abnormal branches stemming from the refluxing GSV. She sailed through this procedure with minimal discomfort and minimal downtime.
Just four weeks after completing two sessions of this treatment cycle, a photograph captured her newfound vitality. She radiated satisfaction, both aesthetically and medically. Her distressing symptoms had vanished, and the varicose veins were gone. Three years down the road, we revisited her case, and the results remained consistent—she remained varicose vein-free. Even the minimal pigmentation seen in her post-treatment photo had completely disappeared in our latest review.
This success story exemplifies the remarkable outcomes that can be achieved with the expertise and advanced techniques offered at the Melbourne Varicose Vein Clinic. Our commitment to improving the lives of our patients shines through each success story. We invite you to take the first step toward a varicose vein-free future by scheduling a consultation with our vein expert today. Say goodbye to varicose veins and hello to a healthier, happier you.