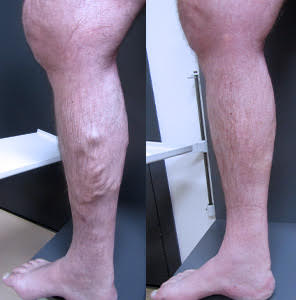 Meet a vibrant 40-year-old gentleman who walked into our Melbourne Varicose Vein clinic with a concern that many share: bulgy varicose veins disrupting both his daily life and peace of mind. These abnormal veins first made their appearance in his 20s, but over the years, they progressed, causing not just cosmetic concerns, but also unpleasant varicose vein symptoms.
The man described the heaviness, itchy rash, and disruptive night cramps that had become unwelcome companions in his life. His symptoms were exacerbated by prolonged periods of standing, but he found relief through rest, elevating his legs, and donning compression stockings—all typical indicators of varicose vein issues. These symptoms began to intrude on his lifestyle, affecting his daily activities and overall well-being.
Veins Treatment Procedure
Upon a comprehensive examination, our skilled doctor identified varices predominantly on one side of his leg. To delve deeper and pinpoint the source of these bulgy varicose veins, we conducted a Duplex Ultrasound (DU) examination during his initial visit to our clinic.
Our diagnosis revealed that the root cause of these conspicuous veins was a truncal vein known as the Great Saphenous Vein (GSV). Armed with this knowledge, we embarked on a journey to alleviate the patient's discomfort and improve both the aesthetics and health of his leg.
Our approach involved the highly effective Endovenous Laser Ablation (EVLA) technique, performed under local anesthesia. When executed by experienced hands, EVLA boasts an impressive success rate, often reaching up to 95%. Notably, this procedure is minimally invasive, allowing patients to walk in and out of the clinic on the same day. Post-procedure, the patient was advised to wear compression stockings for just one week during daytime hours. Remarkably, he was able to return to his work and studies within a few days, experiencing minimal discomfort.
Following the EVLA procedure, we complemented the treatment plan with ultrasound-guided foam sclerotherapy (UGFS) and ultrasound-guided cyanoacrylate medical-grade glue, targeting both visible and non-visible abnormal branches of the refluxing (abnormal) GSV. These additional steps were well tolerated by the patient and came with minimal discomfort and downtime.
Fast forward two years, and our patient returned for a follow-up, and he graciously allowed us to share his remarkable transformation. Through a series of before-and-after photos, it was evident that his varicose vein symptoms had vanished and that his leg looked and felt healthier than ever before.
His satisfaction was not only in the dramatic aesthetic improvement but also in the restoration of his quality of life. The itching, rash, and discomfort were all in the past. His lifestyle was no longer dictated by the presence of bulgy varicose veins.
At the Melbourne Varicose Vein Clinic, stories like these inspire our work every day. We are dedicated to providing comprehensive, effective, and minimally invasive solutions for varicose vein issues. Your comfort, health, and confidence are our priorities, and we're committed to helping you reclaim them.
If you're living with varicose vein symptoms or concerns, we invite you to take the first step towards your own success story by reaching out to us. Let's embark on your journey to healthier, happier legs together.