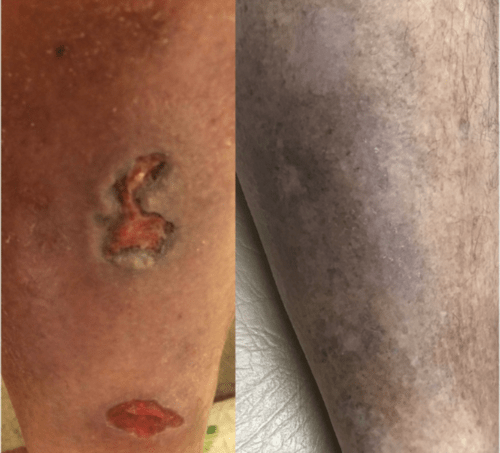 Right Lateral (outside) lower leg venous ulcers
This 62-year-old gentleman presented to our clinic with Right Lateral (outside) lower leg venous ulcers. He noticed skin break down 12 months prior to the before photo. Seen many doctors and nurses keep them under control, finally, our experienced wound nurse could get his infected ulcers under control so we could treat his underlying varicose veins. He was worried about the appearance and health effects of these ulcers and was exhausted from attending a health center for daily dressings. Unfortunately, he was forced into premature retirement due to these ulcers ad frequent GP/nurse visits.
On thorough examination, we noticed non-infected venous ulcers. Duplex Ultrasound (DU) examination was done during his initial visit with us to find out the source of these ulcers. The source of these ulcers were large tributaries (branches) of the main trunk calls Great Saphenous Vein (GSV). These abnormal tributary varices were feeding into the ulcerated area. Our approach was to treat the source of ulcers by Ultrasound Guided Sclerotherapy (UGS) of big varicose vein feeders into the ulcerated areas and compression stockings. He tolerated UGS very well.
As you notice, this gentleman suffers from chronic skin changes called Lipodermatosclerosis (LDS), unfortunately once there are extensive chronic skin changes, Brown discoloration, and skin changes cannot be completely reversed. This gentleman had been informed of this prior to treatment, his main concern was the ulcers as he required daily dressing changes which forced him into retirement. He was extremely satisfied with the outcome and resumed work and normal activities. Frequent reviews were done during the 6 year period following treatment and ulcers did not return back and he did not require any more treatment in the past 6 years.
Strong advice for him was skincare, compression stockings, maintaining a healthy weight and lifestyle, and yearly review to watch for developing new varicose veins to prevent further ulcers. The photo was taken after 8 weeks post and only one session of treatment.
We are proud to announce that our clinic has experienced and friendly doctors and nurses who deal with leg ulcers regularly.