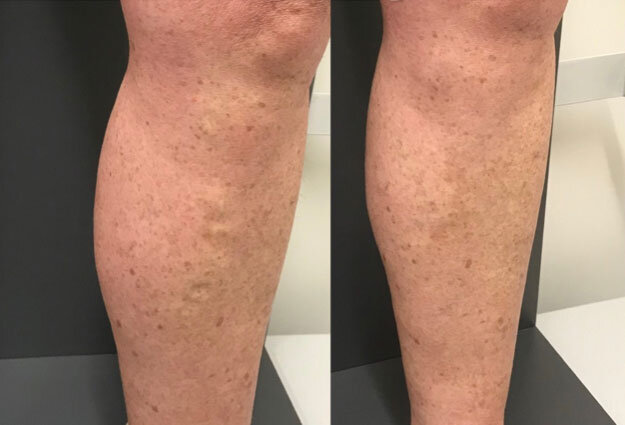 Medial (inside) left leg varicose veins
A 50-year-old professional lady visited our clinic with bulgy varicose veins over the medial aspect of her left leg. She stated she have had unsuccessful treatment of her left leg at another clinic a few years back. Based on the information provided by this lady, most likely the reason for the lack of success was because the clinician did not perform an ultrasound examination to find the source or feeder of these surface veins and only treated what was visible. Her abnormal veins appeared when she was 20 years of age and gradually got worse. She mentioned pregnancy caused a more rapid progression of varicose veins.
She was suffering from heaviness in her leg. Her symptoms got worse with standing for long hours, hot weather, and menstrual cycles which tend to be typical symptoms of varicose veins. The condition was improved by rest, elevating the leg, and compression stockings. She was worried about the appearance and health effects of these abnormal veins and also her symptoms started affecting her lifestyle.
On thorough examination, we noticed varices on one side only. Duplex Ultrasound (DU) examination was done during her initial visit with us to find out the source of these visible bulgy veins. The source of surface varices was a truncal vein called Great Saphenous Vein (GSV), her GSV was refluxing (abnormal) but remained reasonably small in size. Our approach was to treat the source of surface varices by Ultrasound Guided Sclerotherapy (UGS) and one week of wearing compression stockings which she tolerated very well with minimum discomfort and no downtime.
The photo was taken after 6 weeks post-treatment. She was extremely satisfied with both aesthetic and medical outcomes as her symptoms disappeared.